Welcome to Halstrom's Marine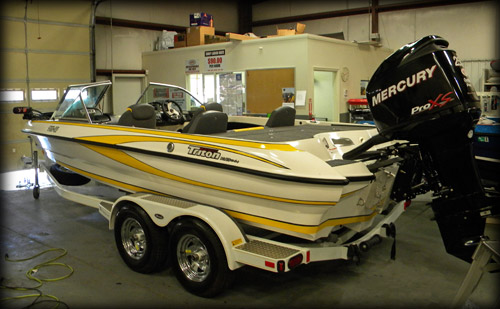 We specialize in performance fishing boats, for both sales and service. We are Mercury Marine certified for OPTIMAX PRO XS, VERADO, Mercuriser stern drive's including Alpha and Bravo models.
We service Volvo, Johnson, Evinrude, 1995 and newer Force engines, 2 & 4 strokes. Most makes and models including some inboard ski boats.
Mercury Marine awarded us with 100% retail customer satisfaction last year and current year. Prior years we were at 99.9%.
We are the only Pro XS serving Mercury dealer in USA that is re gearing Pro XS engines for altitude.
We specialize in performance fishing boats: bass and multi species. Fish and ski's have been our best seller. We lake test to make sure repairs are made to satisfaction (free to customer).
Stop by to talk and walk. Trade a fishing story or two about the Gorge, Strawberry, etc. I've got a 40lb mac in my office, from the Gorge in 2002. First time I tried it. GOT THE PROOF. Jigged it 3 times, 1.5 hrs later got to see it. It's a humdinger. I've been a member and supporter of the Strawberry Anglers Association since it started, back in 1998.
We're all trying to practice catch and release. Catch your fish, land it, take a picture of it and release it. My friend, Jerry Chivers, can make a replica of it. He's replicated most of the fish you see in Sportsman's Warehouse. His phone number is 801-466-1944.
We can do just about any thing to do with marine. We specialize in tournament boats; fish & skis are also a specialty. Try 65 mph of pure adrenalin in a 21 foot family fishing boat. You can do 63 at strawberry with 24 pitch prop.
Brent Halstrom